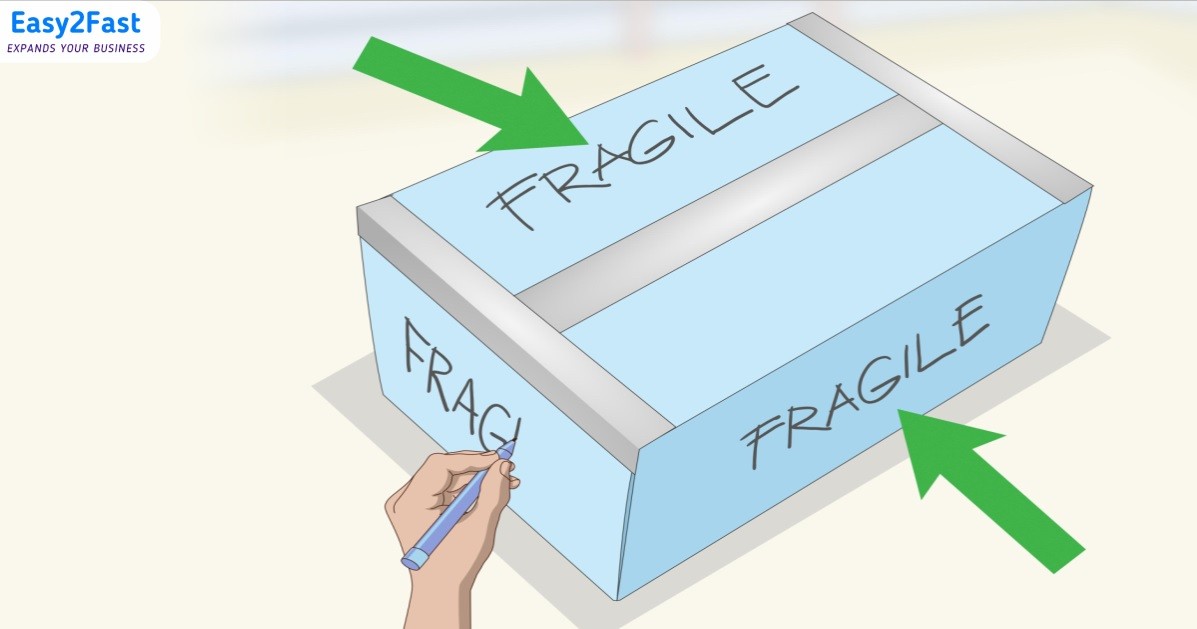 TIPS FOR SHIPPING FRAGILE ITEMS
Dear ones, hope you are in good health. In our latest blogs, we found many advantages of shipping with courier companies. We also talked about the services and facilities the courier companies offer us. As you know already that the courier services providers handle goods with care and safety. They maintain special measures for specific goods. They are efficient in handling delicate products also. So, in this article, we shall discuss some tips for shipping fragile items. If you are a shipping service provider, you will find this relatable. And for business owners too, these tips are useful. So let's just jump to the topic.
The courier companies ship different types of goods. From glass utensils to delicate jewellery. They keep on checking that no item is damaged while packing or shipping. Because a customer won't accept a damaged item. Let's look for some tips that can help you ship fragile items.
USING DOUBLE BOX:
For extremely delicate products like costly jewellery or ceramic or glass items use the double box method. It is also known as box in box method. So, here you have to put the small box into the bigger box. It gives more protection from external damages. Make sure that you are using good quality boxes. Corrugated boxes are always useful for protecting fragile items.
USE OF CORRECT SIZED BOX:
When you do the task of packaging, use boxes that are correct for the products. Suppose you are packing a glass bowl. Then use the right sized box. If you use a bigger box, the product inside can move within the box and therefore be damaged. Always remember that your products are going to be shipped by big vehicles where there will be strong driving motion. So, your products can suffer damage easily. However, using a smaller box can hold the product tightly and avoid movement.
TAPING PACKAGES:
If you don't use proper taping while packing products, it can be risky enough. Try to store enough tapes. Make sure that the tapes are good in quality. Please do not compromise with tape quality as good quality tapes will tighten the packaging. If the parcel is packed tightly, it has little chance of getting damaged. It is better to use 3 inch tapes instead of 2 inch tapes.
CUSHIONING:
You have to take safety measures while handling fragile products. When we receive parcels, sometimes we can see that there is bubble wrapping or foam or cotton is used. Why so? Because the shipping partners use these materials to safeguard our products. Bubble wrap, cotton or foam protects the products from external influences. If a parcel falls down, then also it has very little chances of getting damaged. There are multiple crushing materials available in the market that can safeguard fragile products.
MARK IT AS A FRAGILE PRODUCT:
You must not forget to label the boxes with "Fragile". This is a kind of alert for the people engaged in the shipping process. Because sometimes, fragile products are transported with other kinds of packages. So this label will alert the delivery persons to handle those products with special care.
TEMPERATURE CONTROLLED SHIPPING:
Especially, when you ship medical goods or surgical equipments optimum care is required. Some medicines or other goods require temperature controlled environment. So you have to protect these goods from external temperature, sunlight etc.
USING PEANUTS OR FOAM NUTS:
Firstly, you need to use correct sized boxes. Again, you need to fill the employee spaces within the box so that it can avoid movement. You can fill the empty spaces with peanuts or foam nuts. This will prevent any external shock. It creates an additional layer to the packaging.
It is often seen that products get damaged while shipping. This causes customer dissatisfaction. This causes increased number of return orders. Customers find it distressful when they receive a damaged or scratched product. Again, in case of medical goods if proper temperature control is not used ,the medicines can be spoilt. If the customers face poor delivery service, then they become demotivated to shop online. On the other hand, if they receive products intact and in their best condition, they are encouraged to shop more from online stores. So, these tips will effectively ensure safe handling of different types of goods.